By Archbishop Timothy Dolan
It's said you just sort of know when you're in the presence of sanctity. You don't need much proof or clinical verification; nope — our "gut," our hearts, our souls just sense it.
Holy Mother Church doesn't stop here, of course, and I'm glad she doesn't. She requires some "proofs," such as widespread public veneration, miracles and a scrupulous study of the holy one's life. I suppose she has been burned enough to know you always can't trust your "gut."
In the case of Blessed Pope John Paul II, we've got both.
My heart, soul and (rather considerable) "gut" can testify, from the vantage point of a box seat for at least seven years of his remarkable pontificate, that this was a man of remarkable, extraordinary, heroic sanctity.
As rector of the North American College from 1994-2001, I saw plenty. I had the honor of "watching him up close." What did I see?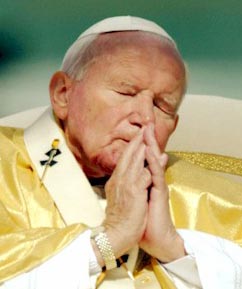 For one, I beheld a man of mystical prayer. For example, at least a half dozen times, I had the privilege of concelebrating his daily morning Mass. When our small group would arrive, we would vest, and then be ushered into his private, cozy chapel. And there he would be, kneeling at the prie dieu, "locked in prayer."
We would wait … and wait. His silent prayer, with his face in his hands, in front of the Blessed Sacrament, the crucifix, the icon of his beloved Lady of Czestochowa, could not be rushed. He had been kneeling there since 6am, we found out.
Occasionally, you could hear from him a groan, or a sigh (like Jesus let out in his prayer).
And crammed into the kneeler would be notes, cards, envelopes — all with intentions he had received from all over the world. I would tear up because I knew the name of my little niece, Shannon, suffering from bone cancer, was among the hundreds of scraps of paper, as the Holy Father would bring them all to Jesus.
Read the rest Here.
I am soooo excited about Sundays beatification ceremony.  I didn't get up early to watch the wedding, but you can be sure that I will get up and watch the beatification!